| | |
| --- | --- |
| | HamRacer |
The hands-on software for passionate CW and SSB contesters. It contains the world-unique synthesized voice keyer.
No need to record anything to your voice keyer!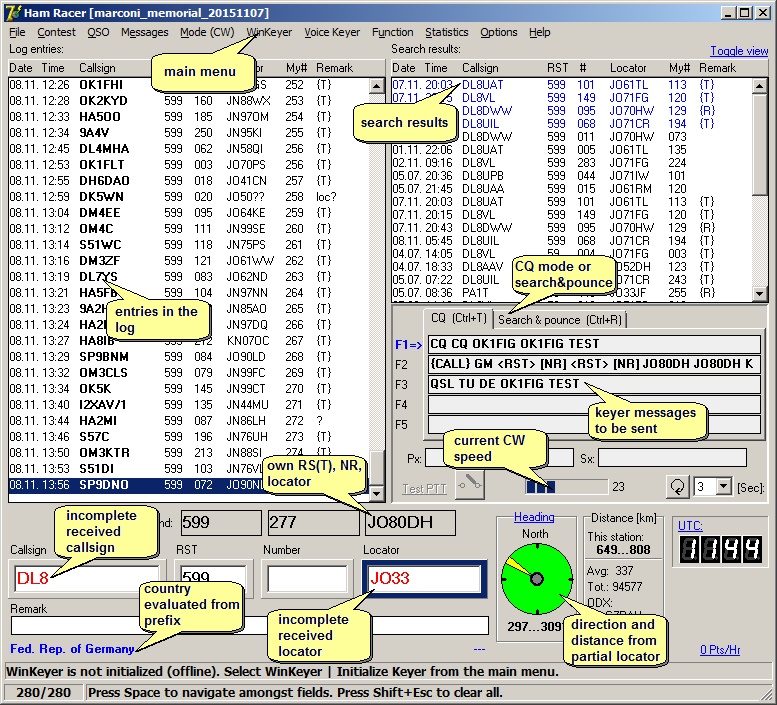 Testimonials:
Tom, KC0W: Super easy to use & understand. Very intuitive. I glanced over the manual after I had already been using the program for 45 minutes or so.
Layne, AE1N: Your software has the promise of a breakthough in Ham Radio SSB contesting...

Videos showing usage in contests:
Any questions? Join the Yahoo discussion group: groups.yahoo.com/group/hamracer
Download HamRacer - latest version
Download the file Setup_HamRacer1.zip

Unzip the file

Run Setup_HamRacer1.exe to install the software. You may need to run it "as administrator".

Due to the contemporary "security disease" you may get various threat alerts. Ignore them - this software doesn't contain any viruses.
Version history (last entry first)

Version
Date of Release
Changes
Remark
1.1.2.0
Not yet
Pre-filling of CQ and ITU zones.
Speed optimization for extremely slow (old) computers.
1.1.1.0
Feb 1st, 2018
Distinguishing a USB->COM converter by its HW signature. Fix in licensing.
1.1.0.1
Jan 25th, 2018
Minor fixes and enhacements. New Search function.
Used in CQ WW 160m CW.
1.1.0.0
Jan 12th, 2018
Implemented the possibility to control PTT through DTR/RTS signals on a (virtual) COM port.
1.0.0.4
Jan 2nd, 2018
Minor fixes and enhancements.
1.0.0.3
Jan 1st, 2018
Fixed "stack overflow" problem when connected WinKeyer.
Tested in Stew Perry contest.
1.0.0.1
Dec 22th, 2017
First version released to beta testers.