Icom IC-751A
Most of the people interested in LF say that modern HF transceivers are usually unusable for 136kHz. RX portion of IC-751A seems to be good enough even for these "out of range" frequencies.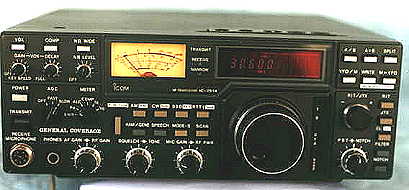 ---
My own experience and modifications:
Mystery of RAM kept with lithium battery:
There is a RAM memory kept with lithium battery in this tcvr. The memory is placed on a small board EX-314. I was told by many people that this memory contains not only data stored by user, but even the controlling program of tcvr. In other words if battery fails tvcr becomes unusable and the whole tcvr (or at least the board) must be sent to Icom to be reprogrammed. There are also articles describing replacement of battery. See http://www.qth.com/KA9FOX/IC-751_battery.txt. I believed for long time that this "feature" applies to IC-751 model and not to the IC-751A. I asked many people about this and researched the Internet but nobody was able to give me a satisfactory answer. No word about this board is in Service manual which is detailed enough. I checked the battery and found that it still keeps 3 Volts, even after ten years . In spite of this I decided to avoid problems and to solve it in advance. I found 2 PCBs which can replace the original EX-314.
http://www.ameritech.net/users/willco788/my1.htm offers one of them.
Nardo' Roberto (IK2RND) offers another. (send an e-mail asking for details). I have chosen this one: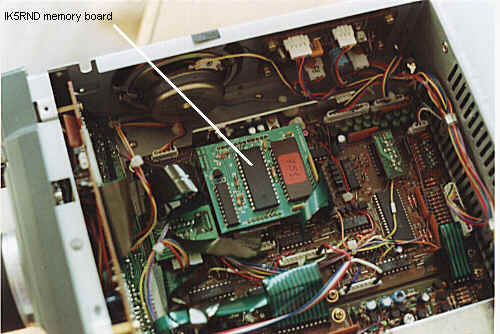 10 kHz click problem:
I noticed that when tuning tcvr audible click can be heard each 10 kHz. Consulting Service manual I worked out that there are two PLL loops, and the inner one must be re-locked just each 10 kHz. Further investigation revealed that during short time when PLL is unlocked some stages are blocked out. The click was made by one of these blocked stages. Take a look at Q39 on the Main unit. This stage is blocked through Q40 with the signal PNB coming from J2.
Simple remedy of this problem:
1. Remove top cover
2. Locate plug J2 on the Main unit. It is close to the FL-44A filter and the front panel
3. Pull out this plug
4. Pull out the middle blue wire from this plug and insulate this free wire with bushing
5. Push J2 back to its position with the middle wire missing
6. Replace back the top cover
This is not quite a correct remedy because I didn't find the cause. But the described modification solved
Built-in home-made AF filter:
To be able to receive extremely week CW signals on 136 kHz I fitted the transceiver with home-made AF filter.
Power measured:
1.8 MHz ............... 115 W,
3.5 MHz ............... 110 W
7 ... 14 MHz ..........100 W
10 MHz ...................95 W
21, 24 MHz .............93 W
28 MHz ...................87 W
Values are for CW and FM mode. With AM mode they are all almost exactly half.
---
Modifications from other brains:
Take a look at http://www.icomamerica.com/FAQ/IC-751_51A.html. Most common faults and replacements described here. Worth reading in case of problems.
Alternative filters for Icom radios, see http://www.qth.com/inrad/IC-736.HTM.
General coverage for TX:
Older models: Locate the RF board on the side of the radio and cut the black wire going to pin 1 of jack 2. Your transmitter is now unlocked. (This mod also described in _73_, July 1985 p. 12.)
Newer models: Locate Noise blanker PCB. This PCB is close to front panel and holds VOX, COMP and WIDE switches. Cut resistor R34 (470 ohms) which is close to jack J1.
Subject: IC-751 Bad Cap Problems
This info may be helpful to ICOM-751 owners with units approaching five years of many operating hours; two UNRELATED problems occurred, both due to a similar 10uf electrolytic opening up. The first was the input cap. to the 5-volt regulater chip which supplies PLL board. Proper by-passing is required, probably to prevent internal oscillations in the chip. Replaced it with a tantulum. (Also arbitrarily replaced electrolytic on the output side of the 5-volt reg. chip). The symptoms were 3 or 4 minutes delay before unit would function. Also the screw holding the reg-chip to its heat-sink was a little loose...probably due to COLD-FLOW characteristics of aluminum. This can also occur in pheof aluminum. This can also occur in phenolic P-C boards where the ground-foil is supposed to be bolted tightly to the chassis. It would probably be a good idea to use small split-ring lock-washers (along with flat-washers) in these cases to maintain tension over time.

The second malfunction was failure of the display digits etc to appear until a warm-up time of perhaps 10 minutes or more (after which you must power-down up to generate a new reset-pulse). It also turned out to be an open 10uf electrolytic on the -5volt line which supplies IC-1 IC-2 on the Display Unit Board. This board attaches to the front assembly near the display digits...parallel to the floor. The front assembly DOES unscrew with 4 screws and move forward an inch or two, but this is actually not necessary. The board has a 3-position connector attaching, but only the two outside ones have wires....red is 13.8v outside ones have wires....red is 13.8v dc input, and purple is -5v output. The purple (-5v) wire, but rather is on the opposite side of the inductor (L1) which does connect to the purple wire. A -5v zener-to-ground appears here, and the culprit 10uf is directly in parallel across the zener. I didn't have a 10uf tantulum handy but a 39uf did the job. I also arbitrarily shunted C-17 (easily visible) with a 33uf tantulum, and C-25 which is another 10uf (easily visible) was shunted with a 2.2uf tantulum. (Tack-soldered on foil-side).